Canoe fishing is a success story that continues to grow over time. This success is undoubtedly due to the many advantages that this activity offers. Essentially dedicated to active fishermen who want a more sporting activity, it allows a silent approach to fishing spots, which remain inaccessible by boat. In order to practice under the best conditions, it is necessary to adopt some safety rules.
Why fishing in a kayak?
First of all, kayaking is an activity mainly intended for fishermen who want to practice more sport and with more freedom. It allows you to approach spots that are inaccessible by boat or on foot. Moreover, being an extremely silent activity, it is therefore easier to approach your prey in complete discretion.
This activity combines two disciplines, kayaking and fishing, which makes it a complete sport with great freedom. The kayak has the advantage of being much more stable than a float tube and also has a larger loading capacity. Another advantage is that fishing by kayak is still cheap at sea compared to a boat.
Thanks to all these advantages, kayaking fishing quickly became a popular sport. As a result, this activity offers a sporting approach and allows the practitioner to indulge his passion in inaccessible places where fish is king.
Choosing the right equipment for your fishing canoe
Choosing a suitable fishing canoe
This is the main element of your activity, it is the one that ensures that your activity runs smoothly and safely, which is why it should be chosen carefully.
As with all kayak models, fishing kayaks are divided into 2 main categories, on the one hand deck kayaks and on the other hand sit on top models. Also, beginners will prefer to start quietly by orienting themselves towards a sit on top kayak. On the other hand, kayakers, experienced fishermen, will move towards a deck kayak whose practice makes it possible to be less dependent on weather conditions.
Another important point to consider for your canoe fishing, stability and maneuverability. To improve comfort, we prefer a wide model, more stable and therefore less manoeuvrable.
Unlike a wide model, a profiled kayak will be less stable but allows frequent station changes and easier maneuvers.
There are also motor or pedal models, better suited for trolling.
Choosing the right fishing equipment
In general, kayaking fishing does not require very specific equipment other than carnivorous fishing. In principle, a short rod with a maximum length of 2 metres is preferred to avoid cluttering up the kayak. It is better to choose a light cane in order not to get too tired because you already have to make an effort to move forward so you can save your energy. Similarly for the paddle, it is more comfortable to start on a light paddle. For lures, look for flexible models that have already proven their worth.
It is possible to install a combined depth sounder/GPS on the fishing canoe in order to easily locate the right spot. Some models are equipped to receive this type of device, for others it will be necessary to tinker.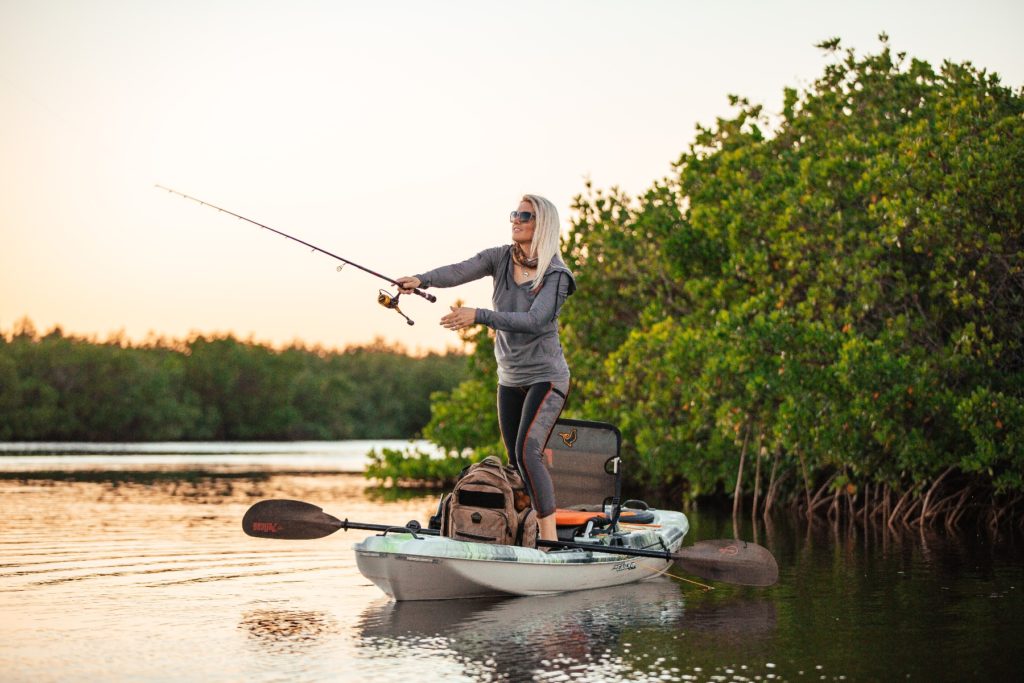 Some tips to practice easily and serenely
Try not to go fishing with tidal coefficients above 100, currents can be very strong and cause unpleasant surprises!
Be careful with the handling of the hooks, the fisherman is often far from everything!
Always bring a cell phone, pliers and a knife, it can be useful.
Dress with the weather conditions: sunscreen, bezel, cap or hat, dry suit etc.
Check the weather and especially the wind.
Securely attach the equipment: cane, paddle, waterproof canister…
Fishing in a kayak is pleasant when practiced in the right conditions. Remain vigilant, the sea is not without danger and especially watch out for other boats.
Regulations for sea fishing
Any canoe fishing less than 3.5m is limited to one navigation in the 300m strip of shoreline.
French regulations impose a minimum safety equipment that it is imperative to have.
The equipment is classified according to two navigation categories.
Navigation within 2 miles of a shelter:
PFD
A tow line longer than the length of the kayak with carabiner.
Drying device
A luminous means (lamp, stick)
Sailing up to 6 miles from a shelter:
The material mentioned above
A compass
Three red hand lights
Audible signal
Mirror
Marine chart of the region
A self-draining system
With a registered kayak, you will have the right to fish in the 300 metre zone and 2 miles away, with the same rights as on a boat, set traps, have several rods…
The approval document to be registered with Maritime Affairs and issued at your request and containing the serial number of the boat concerned. Thus, for this, you must make the request directly to the manufacturer with :
– the purchase invoice
– an identity document
– a certificate of residence
However, only the manufacturer is authorized to provide the certificate of conformity of the boat.