The offer in 3-seater inflatable canoes is overwhelming, and it is often very complicated to make a choice: some kayaks excel in one area but can have a calamitous behaviour in another area for example. Others are average in all types of activities… and everyone has their own criteria to decide if a kayak is right for them. For some, it is the quality/price ratio that counts, for others, it is performance in a particular field that counts, etc.
Rather than giving a raw ranking that is very questionable according to the criteria taken into account, we focus here on highlighting a few remarkable 3-seater inflatable canoes on very different criteria from each other. This way, everyone can find the kayak that meets their criteria. Without claiming to be exhaustive because it is impossible, everyone will find something for everyone in this listing of inflatable 3-seater kayaks quite remarkable.
Sevylor Tahiti Plus inflatable kayak
Inflatable 3-seater canoe to discover the sensations of sliding and to learn how to practice, by the sea, lake or calm river. Obviously, it is an inflatable kayak designed for family use, without constraints. Very easy to store and transport with only 12 kg, it is perfect for a nomadic, occasional practice. You don't even need a carrying bag with this boat. It is equipped with the backpack system which integrates two straps to be able to transport it. Once inflated, no problem either because the boat has two carrying handles. They allow you to lift it effortlessly.
Inflation level, again Sevylor does wonders because the boat is equipped with a gauge that allows you to see at first glance if the inflation level is correct. No more over- or under-inflation problems! With its non-return valves, there is no risk of air leakage; this system is found on the two independent chambers that make up the kayak. Very practical to use with its two protective skirts, the Tahiti Plus makes it possible to take with you things to enjoy short hikes with all the comfort on board. Moreover, the three seats are adjustable, with excellent back support for optimal comfort on board! With its very affordable price, it is an excellent value for money!
Kayak Inflatable Sevylor Alameda
Replacing the Sevylor Hudson model, the Alameda 3-seater inflatable kayak is perfect for family trips, especially in rivers and coastal waters. Wide and stable, it is very reassuring. Its seats are of the "suspended" type. This means that we are higher on the water, which provides a very important rowing comfort. A second advantage of this system is the removal of the "buttock bumps" underneath the boat which tends to cause disturbances and therefore slow down the boat. The glide is therefore significantly improved compared to a boat that is not equipped with raised seats (+15% compared to the same boat not equipped with suspended seats). At the back of the seats, a mesh pocket keeps your belongings dry without the risk of them going into the water!
Three-seater model that can be used in tandem by removing a seat, it is ideal for two adults and a child: it is wide, stable and can carry up to 210 kg on board. With its polyester cover design plus 1000 denier coated PVC fabric, the boat is very resistant to abrasion. The fabric thickness is also higher than the average of the competitors with 0.66 mm against 0.58 mm, which makes it a solid model. Very easy to carry thanks to its carrying bag with straps and with its weight of only 18 kg, it can be carried everywhere!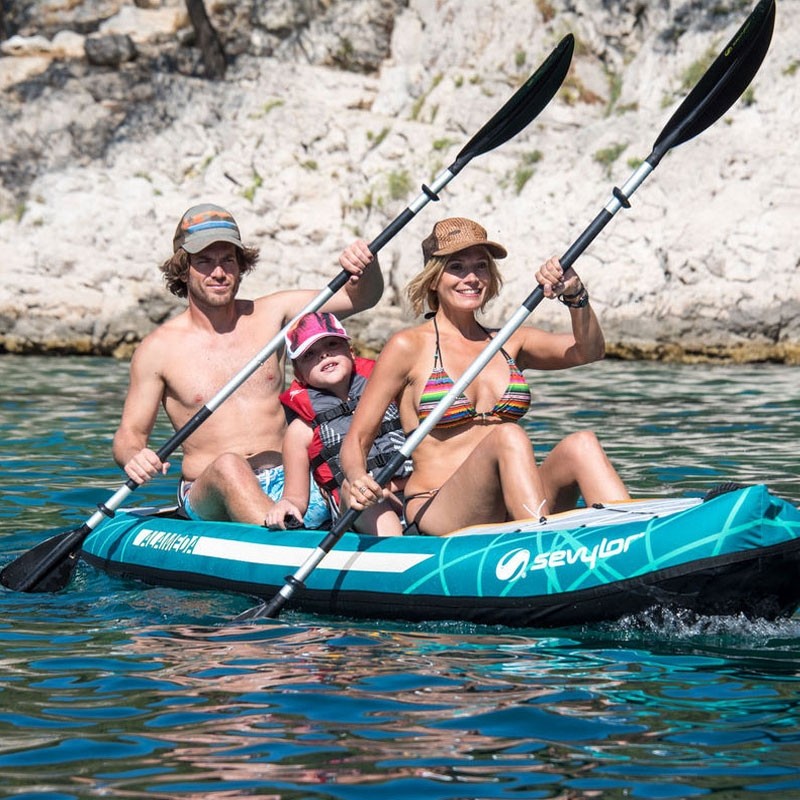 Inflatable kayak 3-seater Rockside Grand Voyager Supercharged
In recent years, more and more high-pressure bottom boats have appeared. But their price is often prohibitive. With the Grand Voyager Supercharged from Rockside we have a three-seater kayak. Can be used by one or two people without any problem. All accessible in price without sacrificing quality! The high-pressure bottom of the kayak uses Dropstitch technology for maximum rigidity. Hyper stable, it performs without eyebrows in the sea, even agitated, and attacks white water (class III) with ease. It remains stable in all situations. With its high pressure bottom, cargo capacity and three seats, it has no competitor in this very reasonable price range. Offering little grip in the wind, directional while remaining very manoeuvrable, it is a boat that knows how to do everything!
Thanks to its V-shaped bow, it splits the water like a blade and ensures a smooth and regular glide for beginners and more advanced kayakers. In addition to the very healthy behaviour of the boat, there is also the exceptional comfort on board. The seats are well wrapped. This guarantees excellent lumbar support, and its width ensures exceptional habitability! Equipped with storage spaces at the front and rear of the boat, protected by wave guards, it can accommodate many items without problems. Finally, it should be noted the ease of transport, even inflated, with its front and rear handles. This also facilitates rinsing.
This boat also exists in two places, under the name of Vulcain Supercharged. We find the same qualities as on the three-seater version. Although these boats are very accessible for high-pressure bottom kayaks, they also exist in low-pressure version (without the name Supercharged)