The aqua design brand originates from Mooving, a company that manufactures rafts on the basis of rafts. The company quickly succeeded in increasing its visibility to expand internationally. Aqua Design is expanding its catalogue for various water sports such as kayaking, rafting and paddle. The brand also offers a wide range of accessories from paddles to life jackets, as well as all the equipment for practitioners.
Aqua Design leader in the field of water sports
Aqua Design is a French brand founded in 1987 by Terry Barbier and belonging to the Mooving group. The brand was one of the first to launch an inflatable kayak model based on Hypalon fabric, an ultra-resistant fabric that remains the strongest ink on the market today. It was also the first company to manufacture and market rafts in France.
Specialized since its creation with rafting equipment, it now offers inflatable kayaks and paddles as well as a wide range of accessories such as vests, helmets and clothing for water sports. Thanks to its quality products, the brand quickly became a reference for rental companies and clubs.
With more than 25 years of experience in the manufacture of products for aquatic sports, Aqua Design uses advanced technologies to create durable and quality products.
Today, the company is one of the leaders in the field of water sports in several European countries.
Kayak PFDs
With the experience acquired over several years, Aqua Design offers the widest range of buoyancy aids adapted to all types of water sports.
Aqua Design PFDs are made of durable materials and offer designs that allow total freedom of movement adapted to the use. The range of kayak PFDs offered by Aqua Design is divided as follows:
Adult vests: the major advantages of these vests are the durability and ergonomics they offer. There are different models (12) with zippers, buckles or threads. Here are some of the most popular models in the range:
Trisuli 70N
Ocean 70N
Twist Pro 70N
Outdoor Club 70N
Twist Club 70N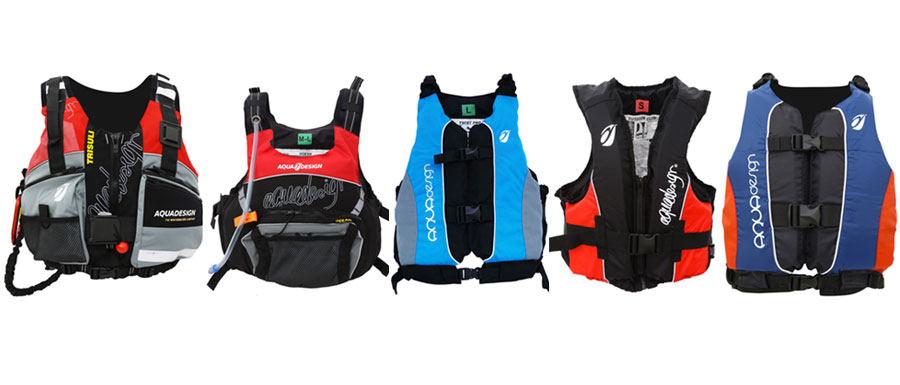 Children's vests: children's safety is the most important thing. Aqua Design offers a range of vests adapted to the youngest ones so that it can safely accompany you on your kayaking trips:
It should be noted that the brand also offers a vest specially adapted for kayak fishing. It has been designed with the help of professionals and fishermen and meets all the needs of fishermen:
Textile, thermal clothing and neoprene
For water sports, it is important that your body is protected. Depending on the period, you will have to keep your heat or protect yourself from the sun's radiation. Aqua Design offers a wide range of thermal and neoprene clothing adapted to your use. Thermal clothing uses Drytech technology:
– Technology that perfectly combines thermal control and comfort thanks to a breathable material. Perfectly suited for low temperatures and cold water. Drytech protects from the cold without forgetting the UV rays that are repelled to guarantee the best protection:
Drytech Top – Polyester 95% – Spandex 5%
Drytech trousers – Polyester 95% – Spandex 5%. PU reinforcement in knees and bottom.
The neoprene range consists of an inner layer of Titanium. Neoprene reflects the body's heat and allows heat to be maintained. Lightweight and comfortable, these garments can be used as underwear in cold weather. They also protect against UV rays and jellyfish:
Top Chrono 1.5 mm
Reeven trousers 3 mm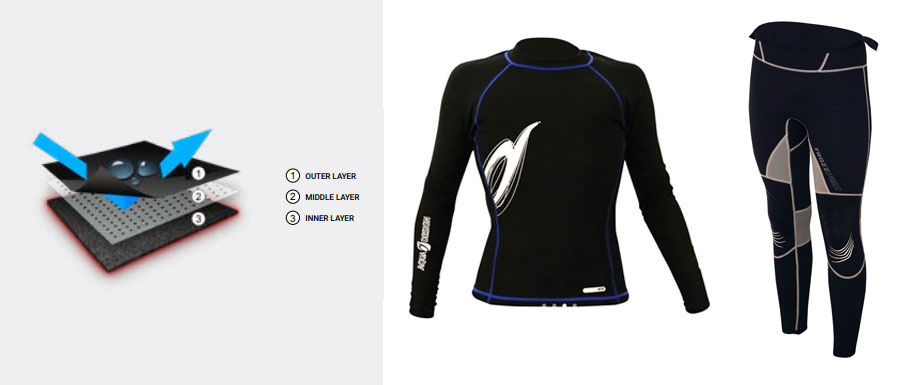 What to think about the brand ?
With a background in rafting and kayaking, it is one of the market leaders and with a certain know-how in this field, it continues to develop quality products. Pure and simple, a guideline that has allowed the brand to combine innovation performance and style to create a range of high quality products. With nearly 30 years of experience in the world of sports and nautical equipment, Aqua Design provides a daily solution to your adventure needs.