The choice of a sea kayak is made according to certain criteria. To begin, it will be necessary to define your program of use in order to choose a kayak adapted to your needs. To make the right choice, it is important to take into account the dimensions of your kayak so that they best suit your use. For example, a wide kayak will be stable but slower than a tapered model. We must find the right balance according to our needs.
Choose a sea kayak according to your program
Before choosing your kayak, you must first analyze your needs to make the right choice. To start, you will have to take into account the duration of your outings, a few hours, a half-day or a weekend. After having analyzed the type of outings, it will be necessary to determine the type of navigation, speed, family stroll, hiking etc…. The last point to take into account and of course your level, you should not choose a model that is too technical if you start, at the risk of not succeeding and losing motivation.
What do the dimensions of a kayak correspond to?
The dimensions of your kayak determine its ability and therefore its use.
– Width: it is this that will give the kayak stability, the wider it is the more stable it is. On the other hand, a wide kayak displaces more water and requires more energy. A wide kayak is ideal for family use.
– Length: a long kayak will be less manoeuvrable than a short model, but it gains in speed. Long models are therefore recommended for hiking and shorter models for waves or along the coast to sneak through rocks.
– The height of the deck: is the distance between the bottom and the top of the hull. It defines the boat's carrying capacity on the one hand and comfort on board on the other hand, such as being able to secure your thighs properly. A kayak with a high height will be more suitable for large gauges and more comfortable, but it will have a larger windward grip, which can be problematic in difficult conditions.
The hull of a sea kayak
As well as the dimensions, the shape of the shell depends on your use. It should be noted that the flatter the bottom, the greater the stability on the dish. On the other hand, the gain in stability takes precedence over speed. Note that the opposite is also true. There are mainly 3 types of hulls:
– Flat hull: stable on calm water, but much less stable on rough seas. This type of hull overturns easily with the inclination of the waves and is recommended for calm water.
– Rounded hull: slightly less stable on calm seas than a flat hull, it allows you to sail in rough seas while maintaining good stability.
– V-shaped hull: it is the fastest model but the least stable in still water. On the other hand, it maintains good stability in rough seas.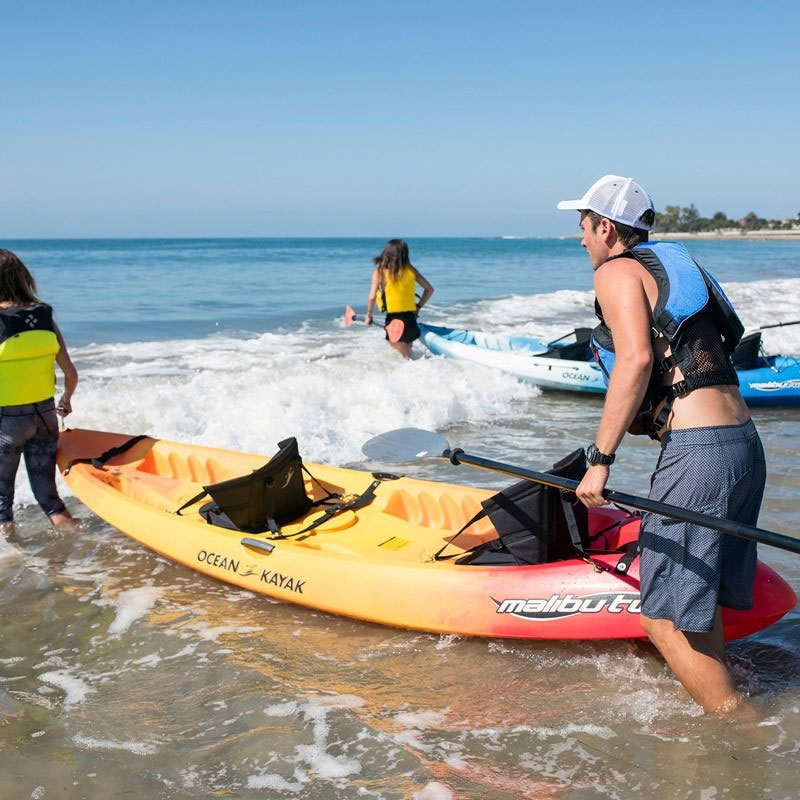 The choice of a kayak between rigid and inflatable
rigid canoe kayak:
Rigid models are the most efficient on the water and can store a higher material load. In addition, they are better able to cope with difficult weather conditions. Rigid kayaks are robust and efficient, but they are more difficult to transport and store.
inflatable sea kayak:
Inflatable kayaks are a good alternative to rigid models, but remain less efficient. The major advantage of an inflatable model is its size and ease of transport. It inflates quickly and can be stored in a backpack. A family model par excellence, it allows you to have fun in all simplicity and safety.
Which type of kayak to choose between sit on top or deck?
Sit on top: these are open models where the user sits directly, these models do not have coamings and are uncomfortable out of season. Sitting a little higher on the water, these models are heavier and slip less well. They have a strong wind grip and are accessible to everyone at any level.
Bridged: these are more technical models that offer the highest level of performance. The deck models have a coaming (an opening) where the kayaker can stay. With the addition of a skirt, the deck models protect you from water and cold. Be careful, these kayaks are not recommended for beginners.
Regulations Div 240 and 245
A kayak that is not homologable is considered a beach gear and cannot sail beyond the 300m zone. Approved kayaks can sail beyond this limit (with the mandatory safety equipment div 240) and up to 2 or even 6 miles if they are registered. A certified kayak must be at least 3.50 m long and meet the standards of Division 245.
Kayak registration becomes mandatory when you want to sail more than 2 miles from a coastal shelter. It is also mandatory to register a fishing kayak if you wish to fish with more than two lines.