There is now an impressive number of single-seater inflatable canoes on the market. Not all are equal: quality, stability, glide, price, range of use, etc. There are many criteria and everyone has their own point of view. Some will seek the best strength/price ratio, while others focus on performance above all. Finally, sometimes it is versatility or stability that prevails.
It is therefore impossible to establish a ranking that puts everyone in agreement. This is why we will mention a few boats that stand out for one or more qualities that make them remarkable, rather than proposing a ranking that would be highly questionable according to the approach we are considering.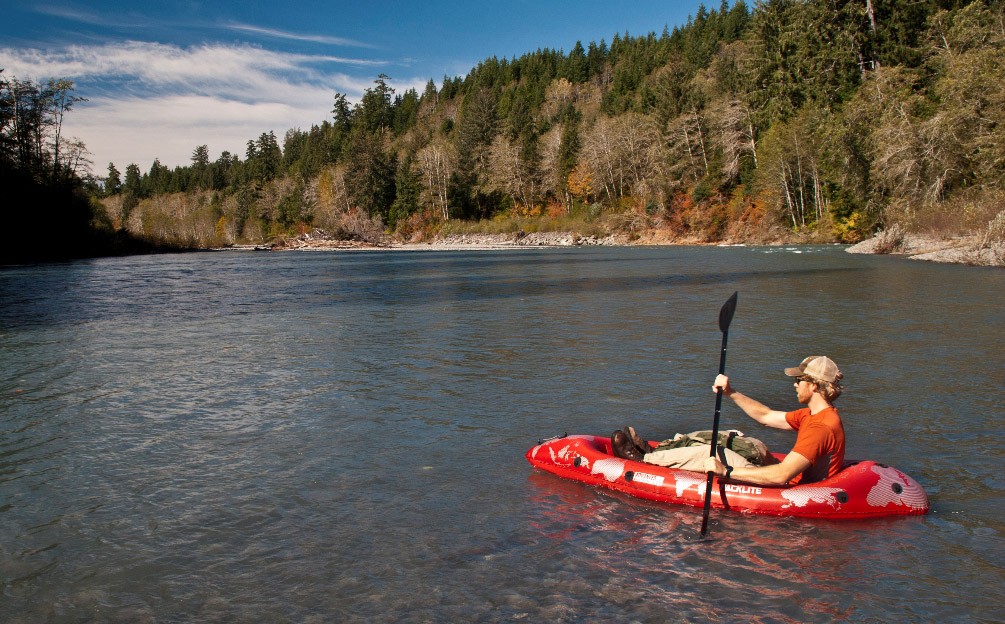 Advanced Elements Packlite
Another boat that stands out, but for very different reasons. Indeed, this boat is EXTREMELY light: 1.6 kg or the equivalent of a bottle of soda!!!! In addition to its ridiculously low weight, its compactness would have made our old ones dream: its size does not exceed 28 x 28 x 13 cm or only about ten litres!!!! But its qualities do not stop there: it is stable, because it is very wide, and despite its small size, it ensures a good comfort on board and a very correct glide. Equipped with three separate chambers, it guarantees a certain safety for the kayaker on board. It is also very popular with fishermen. Indeed, it is an excellent alternative to float-tube! It is particularly easy to handle, which makes it ideal for reaching areas overgrown with vegetation, where fish can hide. It is a boat that will be difficult to use at sea if the conditions are not good, but it will show its full potential in lakes or calm rivers. It is also possible to install a skirt (which is even a complete envelope) for the cooler conditions of autumn and spring!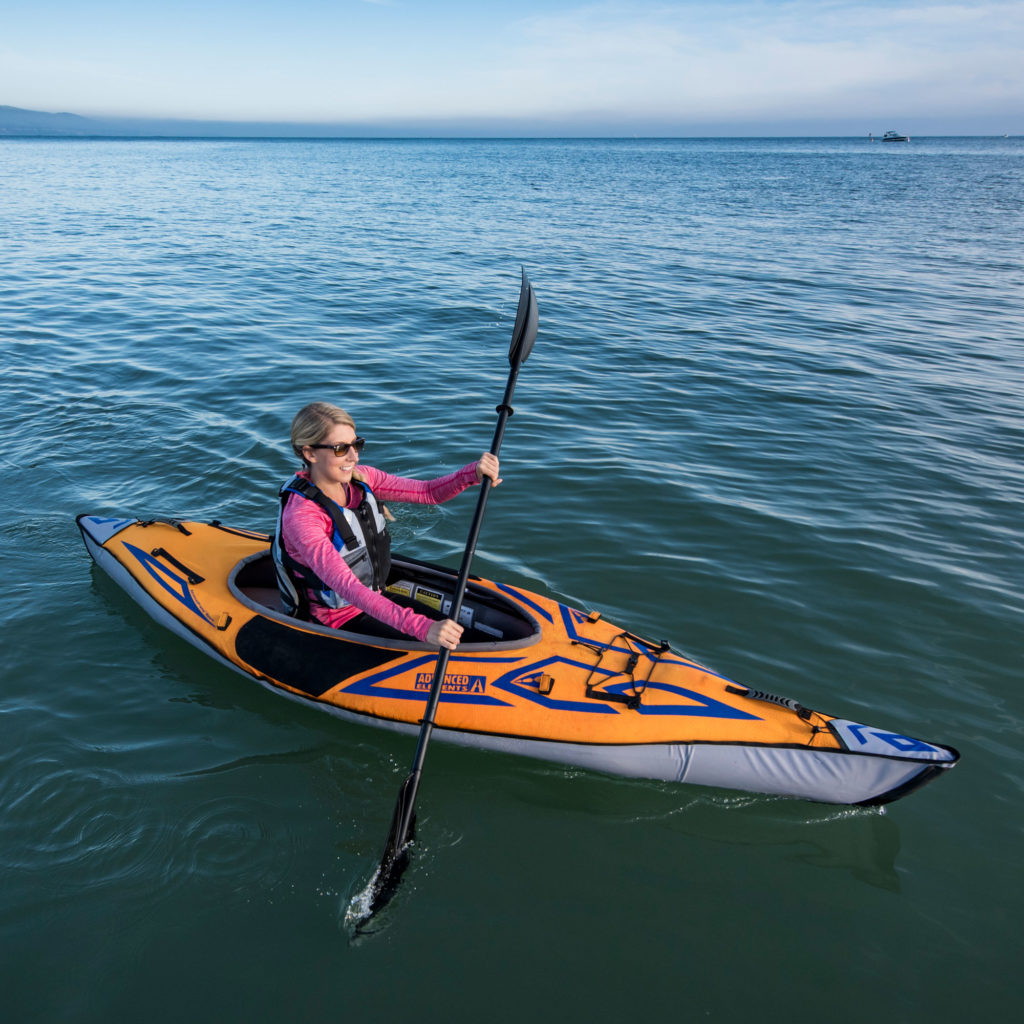 Advanced Elements, Advanced Frame
Here is one of the kings of the inflatable kayak world: a hybrid between an inflatable kayak and a folding frame kayak, the boat's structure uses aluminum ribs that are integrated into the stern and bow.
This "structure" allows the boat to compete with rigid kayaks on several levels: first of all, the glide is significantly improved. More rigid, the boat generates less disturbance under and around the boat, which allows for better gliding. The bow splits the water like a blade, which allows the boat to penetrate the water better and therefore improves the fluidity of the glide. Then, this structure ensures a certain directivity in the laminar flow. This avoids the "wiper" or "row effect" and allows the boat to easily maintain its course.
Very stable deck kayak thanks to its wide width. It offers plenty of legroom and even storage inside. While the interior space is particularly important, once folded the kayak is particularly compact. That's why this boat is the favorite of kayakers looking for both versatility and space-saving design. Finally, one of the advantages of this Advanced Elements kayak is its ease of use: as quick to set up as it is to store, this kayak is operational in a few minutes. It is as efficient as a rigid kayak but offers the same transport and storage advantages as a classic inflatable! A must!!!!!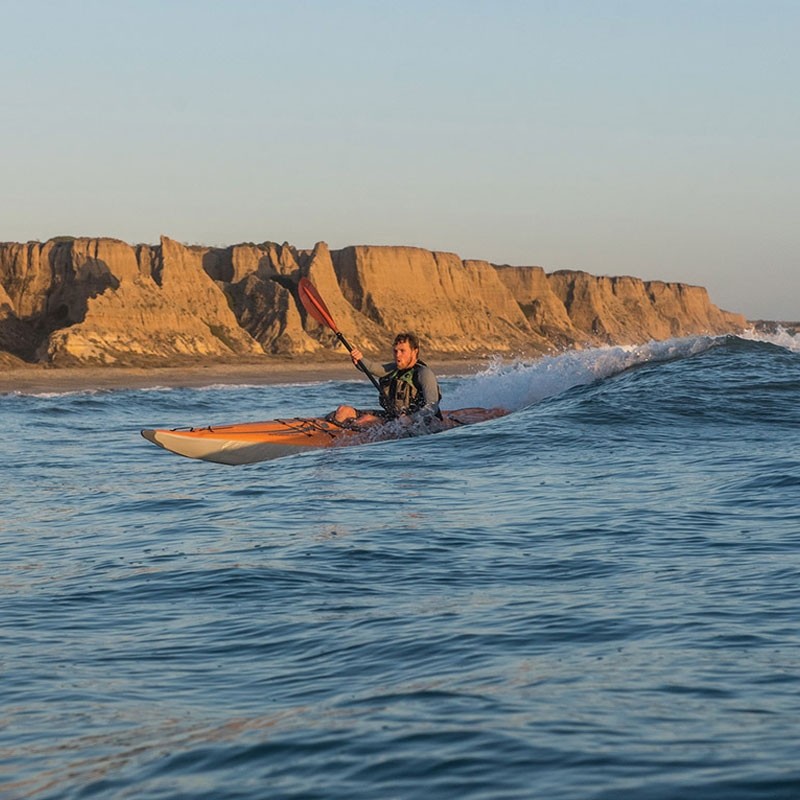 The inflatable canoe single-seater Advanced Elements Air-fusion EVO
No other inflatable kayak is comparable to the Advanced Elements Air Fusion EVO kayak! The unique design of this boat is a fusion of technologies: an aluminium keel, a high-pressure Dropstitch bottom and a polyurethane outer shell for performance that exceeds anything we know about inflatable kayaks! Deck boat for sailing in all conditions, this boat provides outstanding stability, outstanding glide and all the advantages of a rigid kayak, especially in terms of behaviour, while it fits in the trunk of a car. It is even equipped with an access hatch at the rear as found on rigid kayaks.
It is unique in its structure and performance, but it is also extremely fast to use, durable and space-saving. This makes it ideal for long-distance hikes, or exploration raids with maximum effort performance. No kayak can compete with this boat in this segment of use, which makes it an exceptional boat!