Kayaking is divided into two types of practice, directly related to the type of boat used: deck kayaks on the one hand, sit on top kayaks on the other hand. The use of a kayak backrest or kayak seat is an essential element of comfort. It is even essential for safety! Just as a horse saddle provides comfort, safety and control, a kayak seat or backrest is essential for safe navigation. Explanations.
Why use a seat or a kayak backrest
Nowadays, kayaks, whatever they are, have made enormous progress in terms of ergonomics for the user: watertight storage spaces, the possibility of attaching the paddle to the boat, coamings of varying sizes to facilitate entry and exit, etc. As for the comfort itself, there are now a lot of tips to make life on board more pleasant. Especially in terms of seats: except for inflatable kayaks, where the use of a seat or backrest is not even questionable because there is no original integrated seat, most kayaks are already equipped with a pre-shaped shell on which you can sit rather comfortably. So much so that we would almost be tempted not to even add a seat or backrest! But that would be a serious mistake. Indeed, not only do these seats provide additional comfort, they also have multiple functions.
Anti-slip
A plastic shell, even a dry one, tends to be relatively slippery. But when it gets wet, it's a real ice rink. So to prevent our buttocks from sliding back and forth in the swirling waters, from hitting their hips on the sides, a seat with non-slip properties is necessary. And this is particularly true when you are going to face rough conditions: when going down the river or on the sheepy sea, it is unthinkable to hope to control your boat that you have the foundation that goes around in the boat!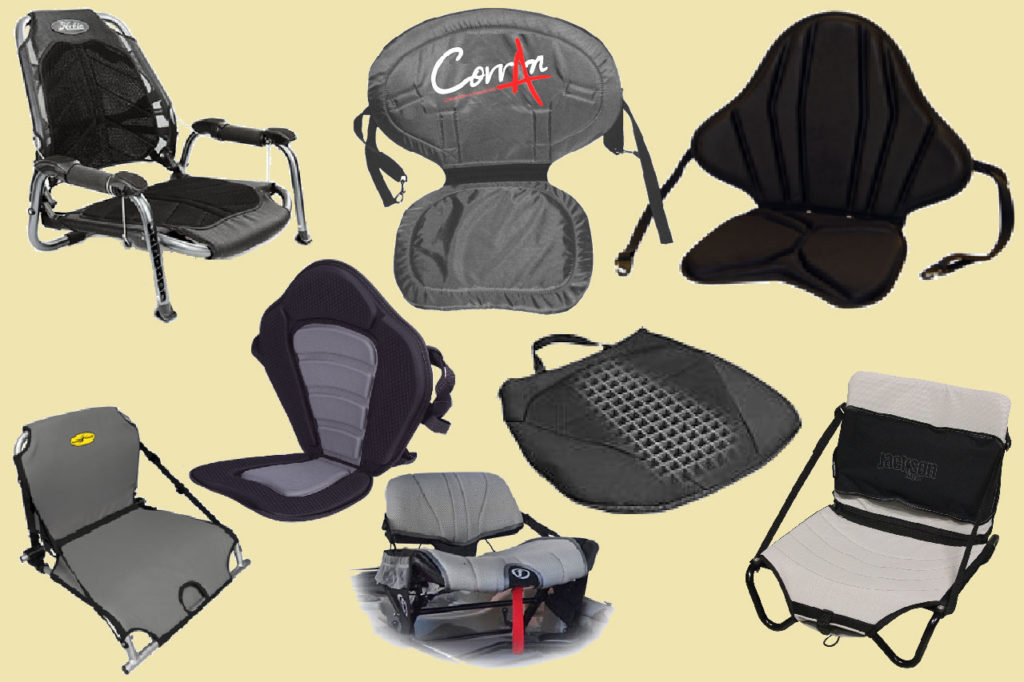 Comfort of the kayak backrest
Now that we have our buttocks in place, we also realize that the seat provides incomparable comfort. Generally, the padded parts of the seat and backrest are designed to be particularly pleasant in terms of feeling: lumbar support, cushioning, limitation of abdominal work, everything is done to ensure that the kayaker focuses his attention on the navigation elements rather than on elements that could be disruptive. Of course, the more we move up the range, the higher the level of comfort will be, even if we can now find very comfortable seats at an affordable price. Some seats are even designed to prevent pain specific to certain kayakers: for example, the Hi-Comfort seat from RTM is particularly suitable when you have had a coccyx fracture.
Fishing in a kayak
Even if when fishing in a kayak it is common to stand up, there are specific seats for fishing in a kayak. They are raised for better peripheral vision and greater freedom of movement. They are all the more important as a fishing session can last for a long time and it is better to conserve your energy to fish rather than to heal your sore buttocks for hours without much mobility.
The specific case of Sit On Top kayaks
The kayak backrest can only be used with a certain type of kayak: sit-on-top. Generally used in relatively calm waters, these boats are less subject to demanding conditions and it is not always necessary to use a full seat. In this case, a backrest may be sufficient. Its function is to provide greater lumbar and vertebral support, without overloading the boat.
There are even some boats in which the seat is already so marked that a full seat cannot be installed. In this case, a backrest should always be used. This is the case, for example, with the Makao RTM.
Except for these few specific cases, it is generally possible to use a seat or backrest as required.
How to choose your kayak backrest or seat
The choice must be made according to the following criteria, always taking into account the budget you wish to allocate to it:
what type of boat do I use? If it is a sit on top kayak, you can use a backrest or a seat, as you wish. If it is a deck kayak, a full seat is usually used.
what practice do I plan to use? For relatively long hikes, at sea or on the lake, we will recommend a complete and very comfortable seat. On the other hand, for kayaking surfing, a seat would not only be disabling but even dangerous. A backsplash will then be used systematically.
What level of comfort is what I want? Some people like firm support where others prefer fleece: just like choosing a mattress, everyone has their own preference. When in doubt and to be more precise, do not hesitate to seek the advice of a professional.
rigid or inflatable seat? Again, some will prefer an inflatable backrest, others a padded seat. It should be noted that it is very unusual to use an inflatable seat on a rigid boat