The canoe trolley is the ideal equipment to move your kayak.
Moving a canoe is not always easy, especially if you don't have the necessary equipment. Whether to transport it on your vehicle or simply to move it from your vehicle to the water there are different materials to make your life easier.
Travel by vehicle:
The easiest way is to equip your vehicle with a roof support to attach your canoe to it. There are different systems that you can add to your support.
Foam bars, very useful because they will prevent your boat from getting damaged or deformed. If you have 2 boats there are "cradles" that allow you to have several on your roof.
If your vehicle cannot receive a roof support, other solutions exist. Here are some examples that exist:
Suction cup roof bars: Fits all vehicles. They are secured by straps attached to the inside of your vehicle.
Inflatable car gallery: Very compact and quick to install, they have the advantage of being able to be stored in the trunk of your vehicle, always ready for use.
The big advantage of these systems is that they allow you to alternate vehicles and also to assemble them very quickly.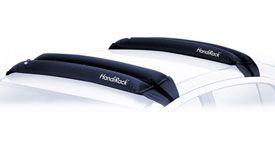 Movement for the launching:
A very practical equipment for launching is the transport trolley. Indeed it becomes very quickly essential, especially if you have a relatively heavy canoe.
The trolley allows you to move your canoe to your boarding area without difficulty. Some models can be stored directly in your boat.
Nevertheless, it will be necessary to choose your trolley carefully according to the weight of your boat (including equipment), the type of ground you may encounter (stones, concrete, sand…) so that it is as efficient as possible.
There are two main "families" of trolleys:
H-shaped transport trolley: to be used with a boat that has self-levelling holes (example sit on top).
Strap cart: This is certainly the most versatile model, able to accommodate any style of boat.
One of the things to consider before buying a transport cart is the type of soil you will encounter most often. Indeed, some models will not be suitable for sand at all, and you will risk blocking your cart with your 50kg canoe… there is a nicer situation!
To conclude, before being the proud owner of a canoe, think about transporting it, if your vehicle allows it and on which lands you will take it. The canoe cart is ideal.