There are a multitude of kayak accessories. If for some they are complementary, others are strictly mandatory to the practice of kayaking in complete safety. In particular the accessories essential for navigation beyond the 300 m zone. For others, it is a matter of increasing the comfort of your kayak or making it more efficient, such as footrests.
Kayak accessories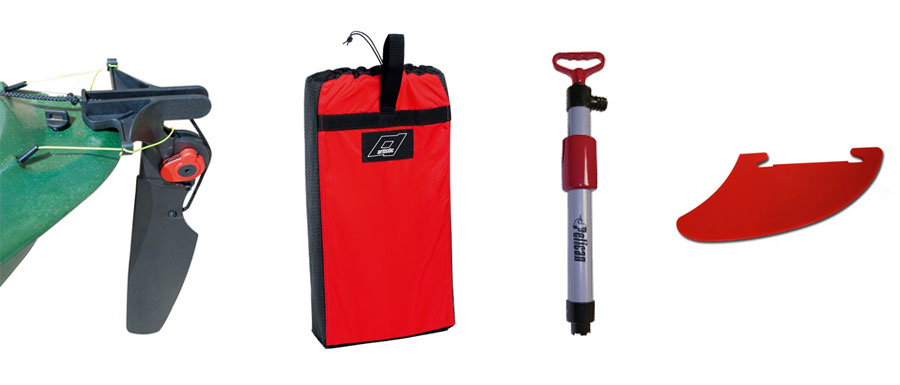 The various canoe accessories are limited by the kayak's boarding capacity and their compatibility with certain models. The following kayak accessories are not mandatory, however for some, they are very valuable or even essential to practice under the best conditions.
Drift or skeg: the drift is located under the kayak's hull and allows you to maintain your heading and sail in a straight line.
Rudder: it is fixed on the upper rear part of the hull. It should be noted that it is the one who allows you to steer your kayak from right to left at will and also facilitates manoeuvres.
Thigh or strap wedges for SOTs: it allows you to be part of your kayak and therefore provides better support and increased comfort. Sit On Top models can be equipped with a strap that locks the legs.
Footrest: generally speaking, it stabilizes the kayak and gives more power to paddle.
Paddle leash: the leash is a safety element that connects your paddle to the kayak in case of a fall.
Seat: In principle, it is possible to attach a seat to certain kayak models in order to increase the comfort of your boat. In addition to comfort, the seat also provides better support for better support.
Floating anchor: the anchor slows down the drift of your kayak. It is recommended for fishing or photography.
Transport trolley: it allows you to easily transport and move your kayak from one point to another. Note that the larger and softer the wheels, the easier it is to ride in the sand.
Paddle float: intended for the practitioner who does not master the eskimo, the float is fixed on the paddle blade in order to obtain a kind of crutch that rests on the water to get back into his kayak.
Additional equipment for the kayaker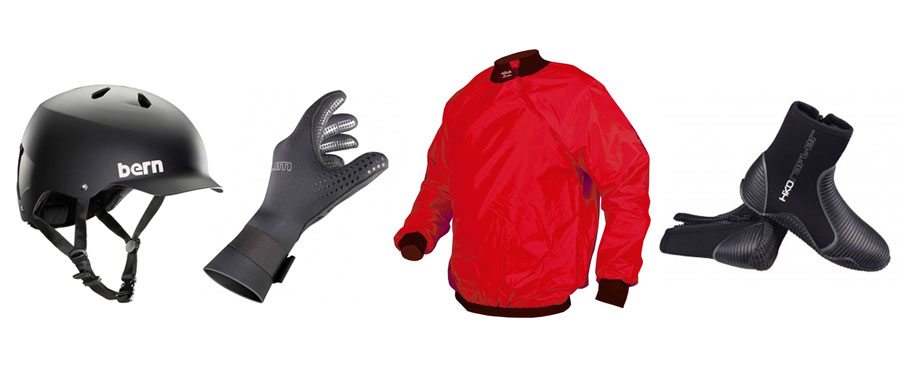 Although the kayak equipment is not excessive, it is essential to choose it carefully, especially when making your first purchases. It is important to choose the right equipment for your practice. In addition, comfort and safety must guide the choice of your equipment.
Clothing: to be adapted according to the seasons, a wetsuit will be preferable in winter and will keep you warm. In summer a lycra top protects you from UV rays.
Helmet: for whitewater kayaking it is essential to wear a helmet. It must be comfortable and adapted to your size, it is intended to protect you from shocks.
Gloves: when temperatures start to drop, it is necessary to have a pair of gloves. Gloves act like a wetsuit and act as an insulator between your hand and the cold outside.
Shoes: shoes with non-slip soles are essential if you want to practice kayaking in the river. They allow you to transport your boat safely. In addition to giving you grip, they help keep your feet warm.
Skirt (for deck model): it keeps you dry by preventing water from entering your kayak. The skirt is put on around the waist and attached around the cockpit of the kayak.
Waterproof bag or canister: kayak accessory that allows you to store food or your equipment in a dry place, even in case of desalination.