It is not always easy to choose the right equipment for kayaking. Are you unsure whether to wear a kayak suit or waterproof clothes? Each has advantages and disadvantages that it is important to take into account if you want to paddle in the best conditions. The choice of clothes should not only be made according to the price but also according to your use.
Why choose neoprene kayak clothes and wetsuit?
Since the arrival of neoprene in the 70s with surfing, fabrics have evolved well. We now find increasingly thinner materials with a lot of flexibility, which allows a great freedom of movement without compromising the thermal efficiency that neoprene provides. With cuts tailored to the largest number of sizes, male, female or child, it is now easy to find a suit to suit your size.
The use of neoprene keeps the body at a constant temperature. The advantage is that it keeps you warm in case of desalination. Neoprene clothing has the particularity of letting in a thin layer of water that warms up between the skin and the fabric, and keeps you warm. However, neoprene is not waterproof, it is simply an isothermal garment.
Note that neoprene is extremely effective when wet, which is not always the case in kayaking, where you can stay dry for hours. It can also cause some skin irritation in the marine environment due to salt.
There are several levels of thickness for neoprene clothing, the thicker the fabric, the more resistant it is to cold, but the thicker it is, the less flexible it is and can limit your freedom of movement. Finally, neoprene allows a slim fit that is more difficult to thread compared to other materials.
To summarize:
– neoprene is not waterproof
– sometimes complicated to put on
+ keeps heat even when wet
+ more affordable than other clothes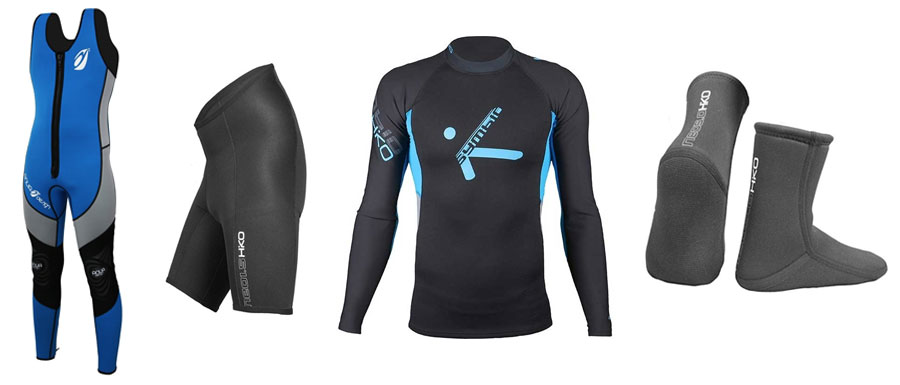 Why choose waterproof clothing and kayak coveralls?
Waterproof clothing is less tightly fitted than neoprene clothing. They are more flexible and allow total freedom of movement. In addition, most of them are equipped with different storage pockets that allow you to store various accessories. Made with different layers of fabric depending on the quality, they are for some people breathable. A high-end jacket even allows for rolling while coming out dry. Obviously, the top-of-the-range is not accessible to everyone, for a less dusty use, mid-range clothes are more than enough and protect you from water splashes. You have to adapt your choice according to your budget and your practice.
For occasional use in mid-season, a waterproof anti-projection jacket is sufficient.
For a more dusty use such as long hikes, it is advisable to start with a slightly more efficient mid-range model.
And finally, for extreme use as white water, it is preferable to use a top-of-the-range model that is much more adapted to its conditions.
Note that this type of clothing is not worn like neoprene directly on the skin. It is recommended to wear a first layer as thermal clothing at the risk of being irritated and for more comfort.

To summarize:
– less affordable than neoprene
– if water gets inside you will get cold
+ waterproof clothing
+ great freedom of movement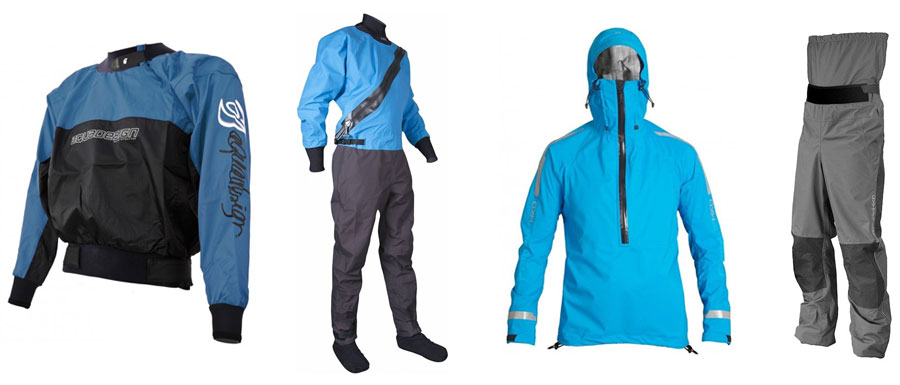 Choose your clothes according to the seasons
In summer season:
If you practice kayaking in summer, a simple swimsuit and an anti-UV top or shorty suit are more than enough, depending on the weather conditions. You will of course need to equip yourself with a buoyancy aid vest.
In mid-season or during the winter:
A swimsuit is not enough, it is necessary to provide a more substantial equipment like a neoprene suit in case of a fall in the water, it allows to preserve the body heat.
In winter, you must complete your equipment with a waterproof windproof jacket. Neoprene can also be replaced by thermal underwear.
Regardless of the season, you must wear a buoyancy aid vest. In addition to providing you with security, it also protects you from wind and cold, provided it is dry.