The brand is known thanks to its Aqua Marina kayaks and especially through inflatable stand-up-paddles. Aqua Marina is a Chinese giant in the water sports industry. They mainly manufacture accessories and inflatable items.
Aqua Marina, an giant in the industry
First of all, it must be said that the aggressive strategy of low prices offered by the brand has democratized these practices, unfortunately often to the detriment of product quality.
Thus the market has followed the trend and today many brands offer cheap, low quality kayaks. Fortunately, this is not the case for all models and brands. At Aqua Marina, a few items stand out from the crowd and deserve attention, especially their high-pressure kayaks: the Tomahawk and the Beta VT K2.
It should be noted that these boats are the result of the trend launched by the brand between 2015 and 2016, which wanted to democratize the practice of inflatable kayaking by offering attractive products from an aesthetic and financial point of view: prettier, more accessible… The modern inflatable kayak entry level and intended for the general public was born.
Aqua Marina kayaks
At the beginning, Aqua Marina offered a fairly wide range of inflatable kayaks, but faced with commercial and technical failure, Aqua Marina has tightened its range with three boat models, each available in two versions (single and two-seater):
HM K0: Actually, the Betta HM-K0 inflatable kayak is a first price model that can be used in two-seater or single-seater. A little superior to beach toys in terms of design, it is a boat that is quick to inflate but also easily transportable. Fortunately equipped with two fins to give it an acceptable heading hold, it can withstand quiet conditions but does not like rough conditions. Its behaviour is rather healthy overall on calm water, with a glide satisfactory enough for a low-pressure kayak. Its rather long length (412 cm) favours it in terms of gliding and its width (83 cm) makes it relatively stable as long as conditions are calm.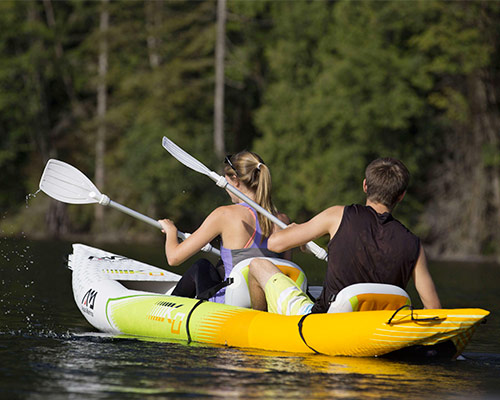 Tomahawk: Actually, it is the most advanced kayak in the Aqua Marina range. As with the other models, it is available in one and two seats. Using Dropstitch technology, it is inflated at high pressure at the bottom and at the edge plates. This stiffens the boat and gives it excellent glide and increased stability. It performs very well in calm rivers and lakes, and can therefore easily withstand even long sea trips. Thanks to its V-shaped keel, it is well directional and holds its course correctly. Especially since its edges are relatively low, which limits its catch in the wind. Although a little more expensive than its direct competitor: the Drift from Zray, it is of equal quality but has the advantage of offering footrests.
Betta VT K2: Once again, this boat is available in a single and two-seater version. It is a model with a high pressure floor. It is designed for sea navigation, and can be used in white water (up to class 3). However, its construction quality is a little light to cope with this type of condition too often. However, we should note the effectiveness of its high-pressure floor, which stiffens the boat and ensures good gliding in calm or more agitated conditions. It has a bow tip and a V-shaped inflatable keel to improve steering control. Here again, its closest direct competitors are Zray Nassau and Rockside Vulcain Supercharged, which have the advantage of being more resistant to abrasion but dry less quickly.
Finally, a survivor of the older Aqua Marina models survived, making the link between paddle and kayak: the "Evolution" model. Not really a SUP, not really a kayak either, he's a transformist who moves from one to the other. It has the advantage of being unrivalled in this niche market.
What about the brand of inflatable kayaks Aqua Marina?
Aqua Marina has, after a failed start, been able to rectify its copy by tightening its range while lowering its prices, but also the quality level of the products. The Chinese brand now offers a short but correct wide range that meets the expectations of beginner or slightly more experienced kayakers.
The general approach remains regrettable, however, systematically putting financial profitability before user satisfaction. It is likely that this positioning will quickly lead to a significant loss of market share for the brand. All that remains is to hope that they will be able to correct the situation in time.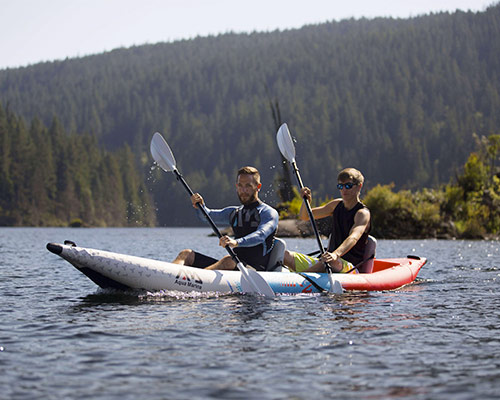 What competition for Aqua Marina
Fortunately, the market remains lively and constantly evolving; thus, competing brands offer equivalent models for each of Aqua Marina's kayaks: Zray, KXone, etc. This competition pushes the market to evolve in a positive way, and new brands arrive regularly, shaking up the established order and forcing the mastodons of the sector to innovate or risk disappearing.