It has now been more than 15 years since Advanced Elements was launched by two inventors who wanted to market a new type of inflatable kayak. A "hybrid" between inflatable and rigid with the convenience and advantages of inflatable, while maintaining the performance of rigid kayaks. Today, Advanced Elements offers more than 100 different products to customers around the world. Always in search of performance, the brand continues to promote innovation and the evolution of the inflatable kayak with new patented designs using unique combinations of materials and components.
Presentation of the Advanced Elements brand
Based in California, the Advanced Elements brand focuses in particular on the design and manufacture of inflatable kayaks with advanced technologies and customer satisfaction that drives the brand to develop new and innovative products.
Deeply rooted in product development, the brand uses patented technologies to offer quality products that meet the expectations of different customers in terms of performance and quality.
The brand also pays close attention to the feedback from practitioners, which is what allows it to evolve and grow over time. The San Francisco-based design center also houses a strong customer service team that provides quality assistance.
Innovations and designs of inflatable kayaks
To date, Advanced Elements' line of kayaks includes many innovations and designs that are evolving to offer the best in terms of durability and performance.
Advanced Elements kayaks are built with multiple layers to provide durability and rigidity, and multiple tubes for optimal safety. The PVC shell and tarpaulin include a polyester fabric sandwiched by layers of vinyl, which creates a durable and strong outer shell. The main area rooms are wrapped in their own blankets, which are then covered by the boat's outer hull.
The Advanced Frame and Strait Edge range includes an aluminium frame at the bow and stern. This patented technology allows for better tracking. Indeed, the bow crosses the waves while the stern acts as a rudder.
For those looking for even higher performance, the AdvancedFrame range is compatible with the Backbone and drop stitch background.
The Backbone is a beam that is installed under the kayak floor. Once placed, the kayaker's weight deforms this beam to give it a V-shaped hull, which improves glide.
As shown in the SUPs, drop stitch technology makes it possible to create extremely rigid high-pressure shapes. Therefore, once installed, it gives the hull more rigidity, which allows less deformation for more stability and speed.

Advanced Elements inflatable kayaks
To date, its inflatable kayak range is ultra-comprehensive and offers many possibilities of use.
Inflatable leisure kayaks
Firefly
Packlite
Lagoon1
Lagoon2
Friday Harbor
Island Voyage
Inflatable touring and expedition kayaks
Kayak AdvancedFrame Sport
AdvancedFrame
Kayak AdvancedFrame convertible
AdvancedFrame convertible Elite
AdvancedFrame Expedition Elite
Airfusion Elite
Inflatable fishing kayaks
Stratedge Angler
Stratedge Angler Pro
Whitewater inflatable kayaks
Attack
Attack Pro
Stratedge
Stratedge2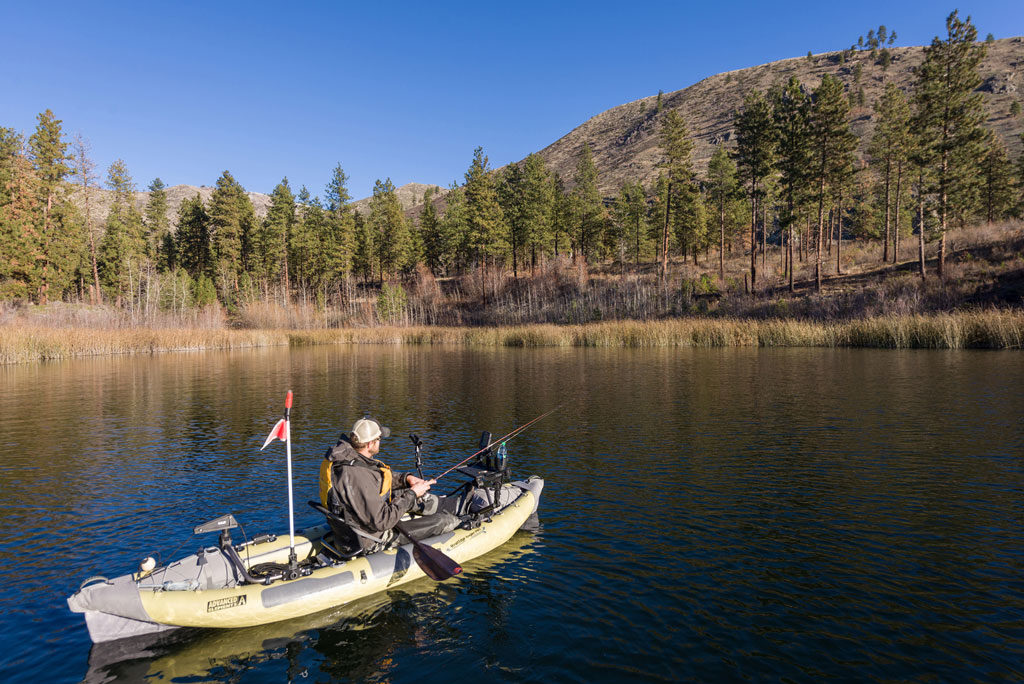 What about the brand?
All in all, Advanced Elements has acquired a very good reputation in the field of inflatable kayaking. This reputation is finally explained by robust and lightweight products, ideal for all types of practices.
Offering a very good price/quality ratio, Advanced Elements impresses by the diversity of the models offered and the performance and sensations offered by its kayaks. Whether you are a beginner looking for an initiation model or an explorer looking for adventure, Advanced Elements' range of inflatable kayaks will meet your needs.