The Zray inflatable kayak range represents a decisive part of the activity of the Zray Sports brand, which specializes in inflatables. With six inflatable boats, all designed for two people, Zray offers a complete range from the family kayak with fun ambitions to the 100% high-pressure kayak whose stiffness and performance objectives are largely achieved.
Zray, a brand specialising in inflatables
The Zray brand, with a positioning that goes from entry-level to mid-to-mid-range, offers SUP inflatable boards, inflatable boats/ tenders, and of course inflatable kayaks.
To date, the range of paddles is quite rich, varied, recognized as reliable and of a good quality/price ratio. The appendices are unpretentious but of a completely correct quality. At the moment, the range of kayaks is limited to 6 models but it covers a very large part of the possible activities with an inflatable kayak.
The Zray kayak range
6 different boats make up the Zray inflatable kayak range, divided into two categories: on the one hand, high-pressure boats and on the other hand, low-pressure boats. All are two-seater boats but all can also be used alone.
Low pressure:
At the moment, 4 inflatable kayaks of the brand are in the low pressure category: Tahiti, Tortuga, Roatan and St Croix.
Kayak Zray Tortuga: it is a family boat that focuses above all on comfort and ease of use. Equipped with a bottom that stiffens the boat thanks to laminated PVC strips perpendicular to the longitudinal axis of the boat, the Tortuga remains relatively efficient. Wide, and spacious, it is ultra stable and allows for long excursions. It also offers one of the best comfort to stability ratios on the market.
Zray Tahiti kayak: quite similar to the Zray Tortuga in shape and design, it does not have a laminated PVC bottom. Fortunately, as the boat is equipped with two transparent "exploration windows" at floor level that provide an exceptional view of the seabed. Thus, it is ideal for coastal walks with children.
Kayak Zray Roatan: this boat has clearly been designed to offer performance for the whole family. This is why it is light and stable, it can be easily stored in its carrying bag. Thanks to its directional drifts, it is easily manoeuvrable. As a result, it is a boat with which beginners and advanced can perform in both small and large excursions.
Zray St Croix: ideal for kayak initiation, it is also delivered, just like the other models, in a complete pack. With its reinforced PVC construction, it is resistant while remaining economical. Its behaviour on flat water is pleasant and its glide is rather good. Particularly light, the St Croix can also be manoeuvred by small jigs.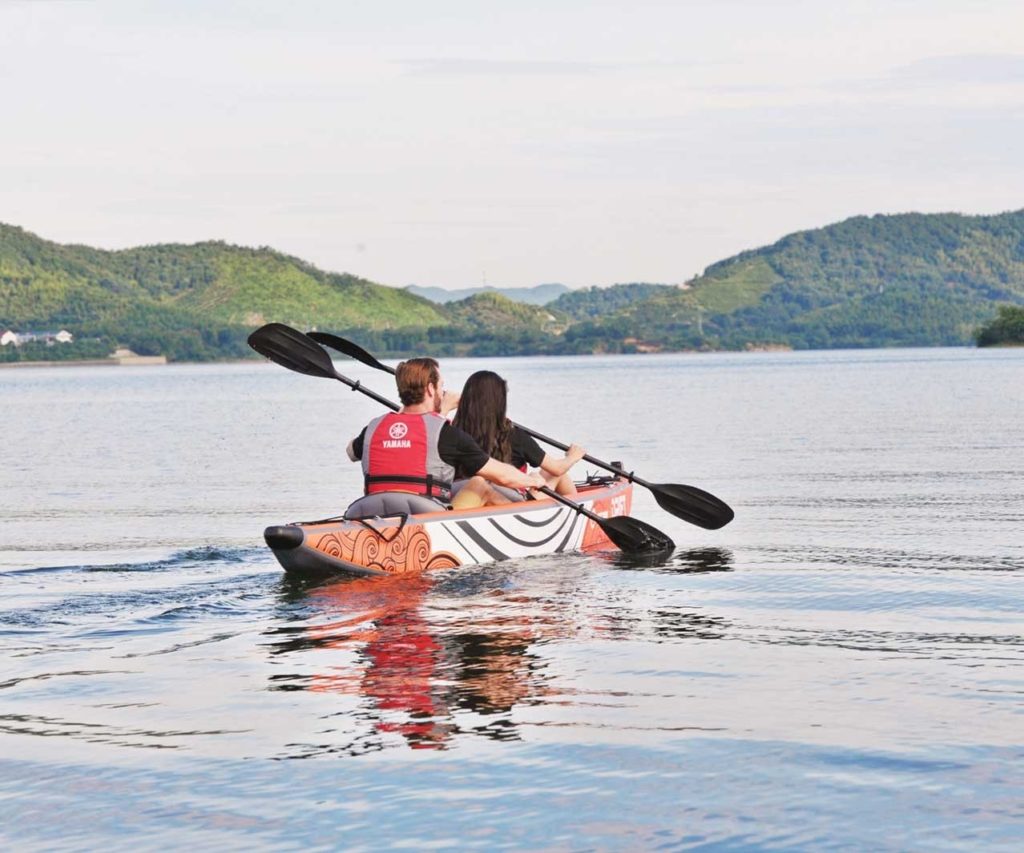 High pressure
Kayak Zray Nassau: it is a hybrid boat with low pressure side sails and high pressure dropstitch bottom. It combines the stability advantages of a low-pressure kayak with the rigidity of a high-pressure inflatable kayak, which gives it an excellent glide level. Direct competitor of the Aqua Marina Beta VT K2, it has the advantage of being equipped with a nylon cover that protects it from abrasion and UV rays. This model is currently suspended by the brand, which is being improved following a problem with the cover.
Kayak Zray Drift: it is THE best positioned 100% high pressure two-seater kayak on the market: cheaper than the Tomahawk Aqua Marina, it is largely equivalent in quality if not superior, and offers performance worthy of rigid boats, or almost. Equipped with three distinct air chambers, it has been designed in the shape of a traditional kayak because it is so rigid. Wider in the cabin, it offers more space for easier and faster paddling. Offering very high performance, it remains compact when stored in its carrying bag. A must!!!!!
What about the Zray inflatable kayaks
With six inflatable kayak models, the Zray range offers a complete range that combines style, ease of use and performance.
The overall level of equipment is very good with systematic carrying handles, storage spaces, comfortable seats and footrests on almost all models. However, it is regrettable that there is no specific single-seater boat to complete the range.