Bestway's Hydro Force kayak range has something for everyone who wants to learn how to kayak or go for a short walk together. Bestway is only 20 years old but has established itself as a reference in the market of inflatable mattresses and pools. It now has in its catalogue a whole range of products adapted to water sports.
Presentation of the Bestway brand
Since 1994, Bestway has been striving to offer products for quality experiences for all ages. The brand devotes all its efforts to research development, design and growing production capacity. The catalogue is enriched with new products distributed to a wider audience. Bestway products are now distributed in more than 110 countries on six continents.
Bestway currently has more than 1100 products in its catalogue divided into four categories including a selection of above ground pools and spas, toys, water sports and camping equipment.
Bestway's Hydro-Force range specializes in aquatic products and offers inflatable toys, paddle boards, kayaks and tenders.
Whether you are a beginner, expert or adventurer to the core, Hydro Force has the right equipment for your next aquatic adventure.
Making a Hydro Force kayak
Bestway has four plants all located in Shanghai. They are located in the Yangtze River area. This implementation allows the brand to improve productivity and the technologies used. All this while keeping an eye on the quality of the products. Bestway's main material suppliers are among the best in the world, which allows for quality production.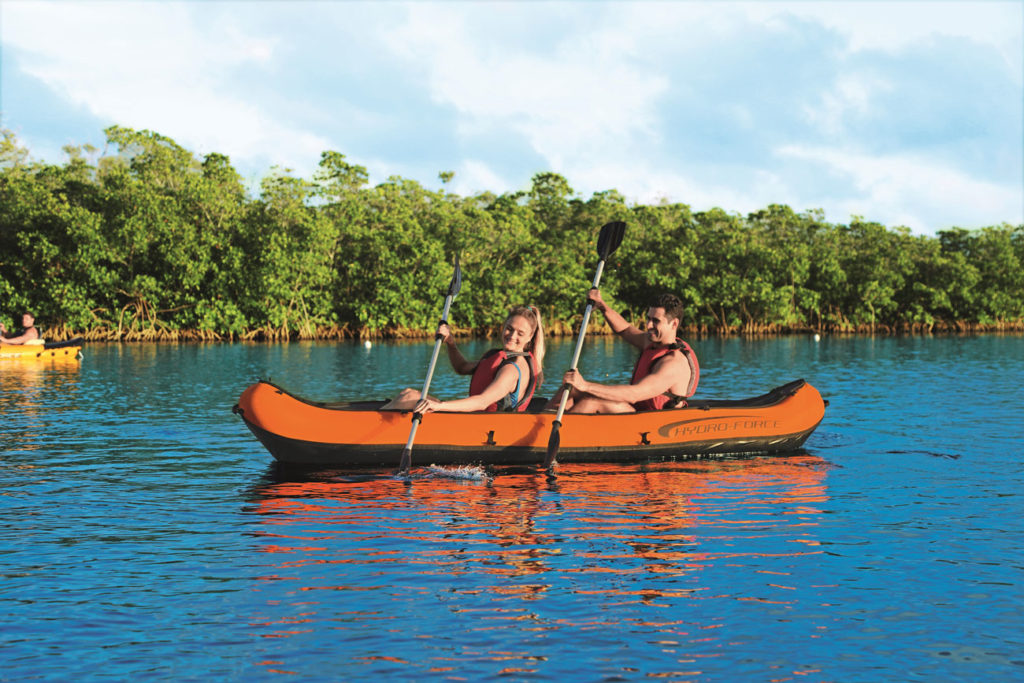 Bestway's main manufacturing technologies for inflatable kayaks:
INFLATASHIELD™ :
A thicker material that provides an extremely resistant barrier to perforation and increases tear resistance, limits deformation and provides better rigidity. The texture with embossed finish improves the grip on the whole product.
TRITECH™ :
Tritech™ is a material composed of 3 reinforced layers, with a polyester mesh core wrapped in two layers of laminated PVC. Combining increased robustness and excellent durability, Tritech™ is also particularly resistant to petroleum products and UV rays. This material is used in the manufacture of the internal reinforcements of SUP paddles and in the external reinforcements of inflatable boats.
FORTECH™ :
Fortech™ is the fusion of dense polyester mesh and very dense PVC. These two materials combined make it possible to obtain a very lightweight product that is nevertheless extra resistant to perforation and deformation while offering a very pleasant fabric feel.
Hydro-Force inflatable kayaks from Bestway
Hydro-Force offers three inflatable kayaks: the Lite-Rapid, the Marine-Pro and the Ventura. These kayaks are light and easy to transport.
The Hydro-Force range is known for its quality, experience in the tyre market and value for money. The kayaks in this range are factory tested, they are resistant to UV, hydrocarbons and seawater salt. Their design is designed to prevent water from entering the interior and their shapes allow the water to be easily cut off for better gliding. They are equipped with seats that add an element of comfort. Enough to walk for hours without back pain.