It is important to choose a kayak jacket carefully. In order not to make mistakes, we must first determine the use we will have in order to focus on the different characteristics offered by jackets. A jacket used in hot weather will not have the same characteristics as a jacket intended for winter use. This is why it is necessary to know which characteristics are most useful and which are secondary.
Choose a kayak jacket according to its use
It provides a degree of protection that differs from one model to another depending on its manufacture. It will therefore be necessary to adapt your choice according to the weather conditions encountered during practice. Some jackets use stretch fabrics that provide greater freedom of movement for kayakers. There are 3 main types of conditions:
Hot weather: the main element for a jacket in hot weather is "breathability". Choose a fabric that can wick away perspiration. The advantage of this type of jacket is its light weight and ventilation zips.
Mid-season: it is recommended to choose a waterproof model. Some jackets have different layers of fabric for extra protection. It is also possible to combine a jacket with thermal underwear.
Cold weather: heat is preferred. It is necessary to have a model with several layers, waterproof and preferably with a hood. Some models are adjustable at the waist and wrist and allow a total waterproofness.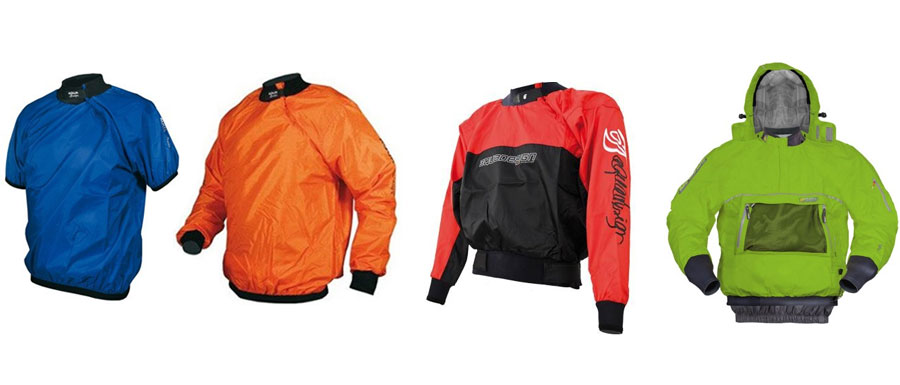 Choose the right protection according to the elements
Wind: a hood protects your head. Preferably adjustable to follow head movements.
Rain: a waterproof model with a visor hood. Avoid softshell models that do not protect in case of heavy rain.
Cold: a rain jacket combined with thermal clothing or multi-layer models.
Abrasion: a thicker and often more resistant model. It is better to favour the material over the weight.
The different finishes
The hood: preferably adjustable, it allows you to keep a good field of vision and offers less grip in the wind. A well-fitted hood allows for better tracking of head movements. A visor provides additional protection.
Wrist and waist: elastic, light but not adjustable. Adjustable model with velcro, ideal for combining with gloves. With drawstring for the waist for more waterproofness.
Pocket: a little something extra to carry your keys or smartphone.