There are countless 2-seater inflatable canoes on the market today. Some are better than others: quality, stability, glide, price, range of use, etc. There are many criteria and not everyone is looking for the same qualities. Some are looking for a solidity/price ratio to keep their boat as long as possible, others are looking for performance above all. Finally, some are primarily interested in a variety of use or simply ease of use.
It is therefore difficult to establish a ranking that corresponds to all approaches. This is why, rather than proposing a raw ranking, we will mention a few boats that stand out from the crowd because of one or more qualities that make them remarkable.
The inflatable canoe 2 places Inflatable Zray St Croix
Here, it is above all the range of use and quality in relation to price that make this boat exceptional. Ideal for family use by the sea, this 2-seater kayak is also comfortable in calm rivers and lakes. With an extremely low public price (99 €), one would expect a boat with very limited performance, unstable, which would be more like a beach toy than a real kayak. However, this is not the case! Of course, this inflatable kayak is not made to face high seas conditions or rough rivers but for recreational use without any particular performance research, difficult to find a boat with this quality/price ratio! Especially since two paddles are included as well as an inflator in the price.
Equipped with a loading net to store your belongings at the front of the boat, it offers the comfort of a superior quality kayak, but at a very affordable price. In addition, it is lightweight and easy to use, even by children, because it is stable and easy to handle.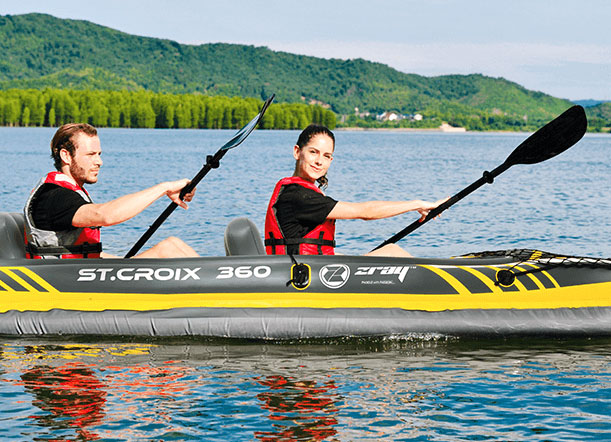 Inflatable kayak Rockside Vulcain Supercharged 2-seater
In recent years, high-pressure bottom boats have appeared, but their price is often prohibitive. With the Vulcain Supercharged from Rockside we have a two-seater kayak, which can be used by one person without any problem. On the other hand, its high pressure bottom uses Dropstitch technology for maximum rigidity. Hyper stable, it performs well at sea, even in rough seas, and can attack white water (class III). Even more resistant than the Aqua Marina Betta VT K2 or the Nassau from Zray. He also has a healthier behaviour. Indeed, it offers less grip in the wind and is more directional than its competitors. With a V-shaped bow, it splits the water without difficulty and ensures a smooth and effortless glide for beginners and advanced alike.
Its main advantage, beyond the boat's behaviour, is the comfort on board: its seats are well wrapped, which ensures excellent lumbar support, and its width ensures exceptional habitability! Equipped with a waveguard at the front that houses a storage space, it can accommodate a lot of stuff without any problems. Finally, it should be noted the ease of transport, even inflated, with its front and rear handles. This also facilitates rinsing.
This boat also exists in three places, under the name of Grand Voyager Supercharged. We find the same qualities as on the two-seater version. Although these boats are very accessible for high-pressure bottom kayaks, they also exist in low-pressure version (without the name Supercharged)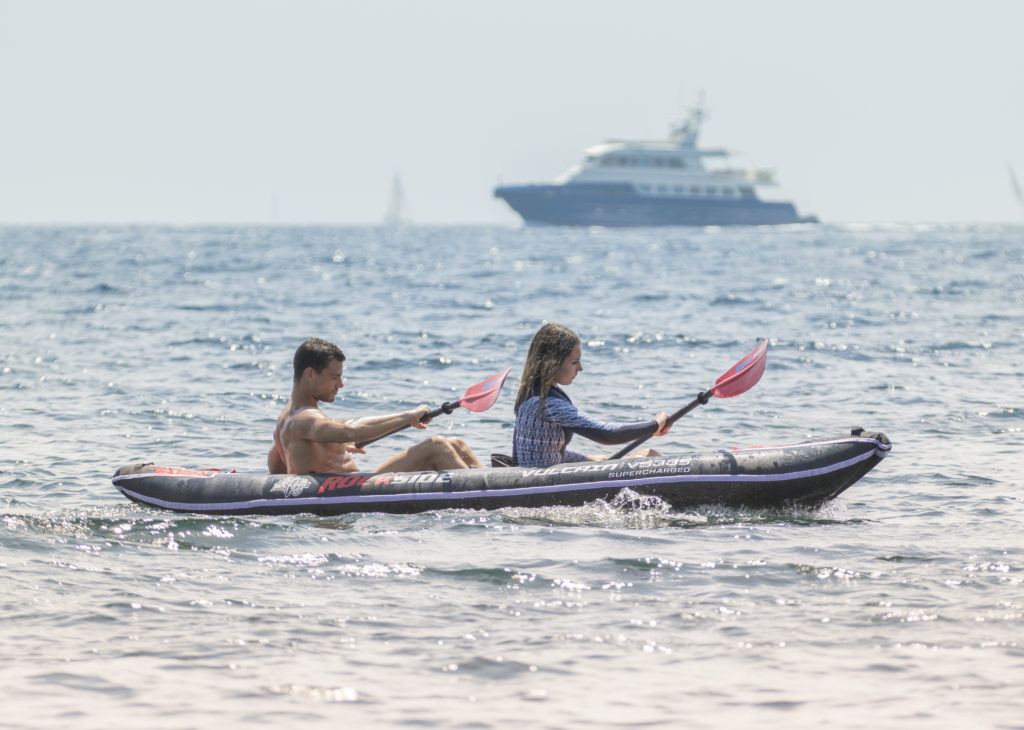 100% high pressure kayaks
It is almost impossible to separate the Zray Drift from the Aqua Marina Tomahawk. They are both very rigid and offer equivalent levels of performance, although we can notice small differences. Indeed, depending on the use, these differences can be an advantage or a disadvantage. For example, the Tomahawk has lower edges than the Drift: less windward catch, therefore, but more water entering the boat in the event of a lateral chop. Concerning handling, a slight advantage to the Drift, but experience shows that the Tomahawk is a little more stable. In any case, the differences between these two 2-seater boats are very slight: we are often in the thickness of the line and each will have a different opinion that it will be difficult to contest on the basis of concrete elements.
In conclusion, what should be remembered is that these two boats are clearly the best in terms of quality/price ratio (about 700 – 750 €) and behaviour in the inflatable kayak segment. Other brands such as RTM have entered this segment but with a much more expensive kayak (around 1300€) with the only advantage of even greater rigidity but which finally has little impact on the boat's performance compared to the Zray and the Aqua Marina.